Symbolic picture: Caro Behnke
We do not own any of the equipment pictured, we received all information from the respective owners. All information is subject to change. If you're interested in posting a sales ad, check out the fees in the PDF below.
Das angebotene Equipment ist nicht unseres, wir haben die Informationen von den Besitzern bekommen und übernehmen keinerlei Haftung. Alle Angaben ohne Gewähr. Alle Anzeigenpreise finden Sie im untenstehenden PDF.
CR Definition Saddle
CR Definition rough out saddle in black
16" seat and wooden stirrups
The saddle was build in 2019 and has been used with a cover on (except for at shows)
hardly used in the past nine months
asking price: 4200 Euro
For more information contact Maike Englert
CR Definition Rough Out Sattel in schwarz
16er Sitz und CR-Holzsteigbügel
Der Sattel ist von Mitte 2019 und wurde außer auf dem Turnier immer mit Sattelschoner geritten.
Wurde das letzte Dreivierteljahr nur wenig geritten.
Preis: 4200 Euro
Mehr Informationen gibt es bei Maike Englert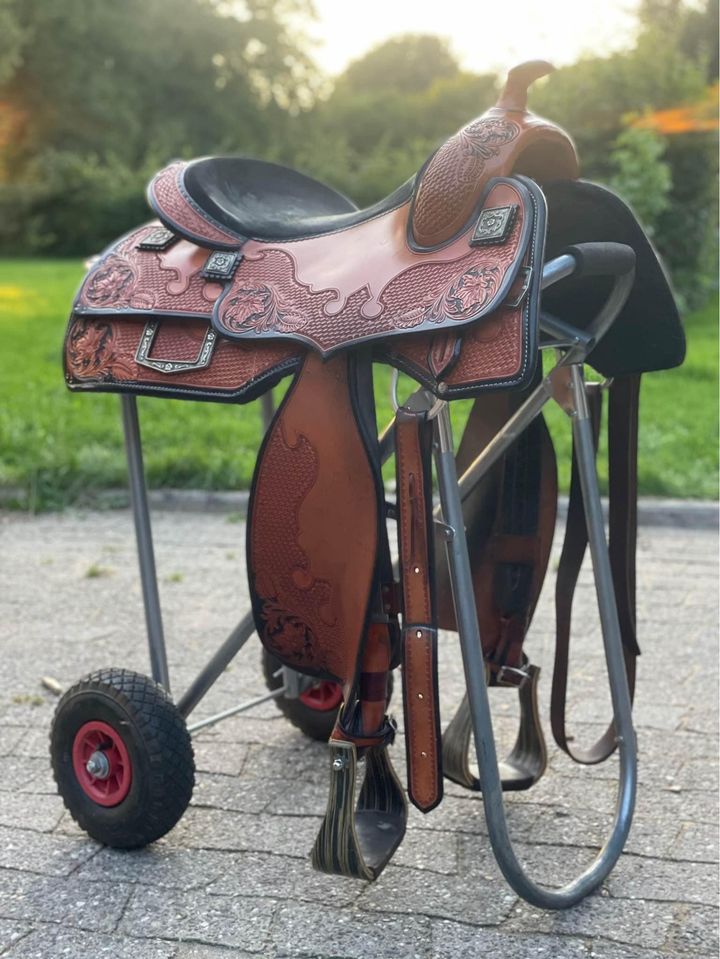 Triple W Saddle
hardly used Triple W show saddle
model: Platinum 305
tree: R899
light leather with black tooling
antique conchos
special tooling
guarantee until 18th Dec. 2021
sold by Jennifer Oltmanns, contact via Facebook
This saddle is a semi-saddle with a lot of twist and higher angulation in the front. It is rather flat in the back and has little rock. The tree is a Bearflex. Seller is the only owner so far.
This saddle has only been ridden with a cover except for at the show, about ten times. It is sold, because the seller quits showing. Stirrups are not for sale, tie-strap and off-billet will remain on the saddle.
Can be picked up in 26160, Bad Zwischenahn, Germany with cash deposit and a contract. Will be shipped if the buyer pays beforehand.
Neuwertiger Showsattel von der Marke Triple W
Modell: Platinum 305
Baum: R899
Helles Leder und schwarze Punzierungen
Antik-Conchos
Sonderpunzierung
Restgarantie bis 18.12.2021
Verkäuferin: Jennifer Oltmanns, Kontakt über Facebook
Bei dem Sattel handelt es sich um einen Semi-Sattel mit viel Twist und vorne einer steileren Winkelung. Nach hinten ist er flach und hat wenig Rock. Der Baum ist ein Bearflex.
Die Verkäuferin ist die Erstbesitzerin.
Der Sattel wurde nur mit Sattelschoner geritten und nur zum Turnier etwa zehnmal "oben ohne geritten". Abgabe, da Aufgabe des Turniersportes. Die Bügel werden nicht mitverkauft. Tie Strap und Off Billet bleiben am Sattel.
Abholung in 26160, Bad Zwischenahn, bei Hinterlegung der Kaufpreissumme und Abholungsvertrag. Versand bei Vorkasse möglich.