Being a horse trainer is risky business. It is not a job that is well integrated and supported in the systems of our European States. It is a job you can easily lose – especially in times of a pandemic. Laura Weber has not only founded her own business last year – Laura Weber Western Performers – but has recently started to go to university as well. We have talked to the 21-year-old about why she did that, what she thinks about having a certain kind of training as a horse trainer and her goals.
You have recently started university – what do you major in?
I major in International Management and I am taking a so-called day course at the FOM in Cologne, Germany. This means that I have lectures two days a week and have to prepare for them and do some work afterwards as well. That way, however, I can study beside working as a horse trainer. At the moment, everything is online, but usually we do have to attend in person.
Does that mean you quit being a horse trainer?
Not at all. That was why I chose a major that makes it possible to work as well. I love working with the horses and clients and I wouldn't want to give it up. I am doing less of it now, of course, mainly because I was able to start the winter semester quite spontaneously and have to catch up. Fortunately, my clients are really understanding – which I am very grateful for.
There are some subjects in relation to horses – why did you not study something are equine science?
I wanted to do something entirely different in order to have a back-up for the future. I think those subjects involving horses are great, but I actually love the contrast between studying and my daily work. Since I knew what I wanted to do professionally from an early age on, I never thought about any subjects I might be interested in. International Management is the kind of studies you can use in many professional fields and I really love the things I am learning more about – especially the international aspect. One great thing is that I can apply many of the things I learn in my job.
Why do you think studying is important in order to become a horse trainer?
I don't think you have to study in order to be a horse trainer. You should have some training regarding all the basics about horses, taxes and legal stuff. The corona crisis has shown me how important it is to have a back-up. So isn't now the best time to learn something more?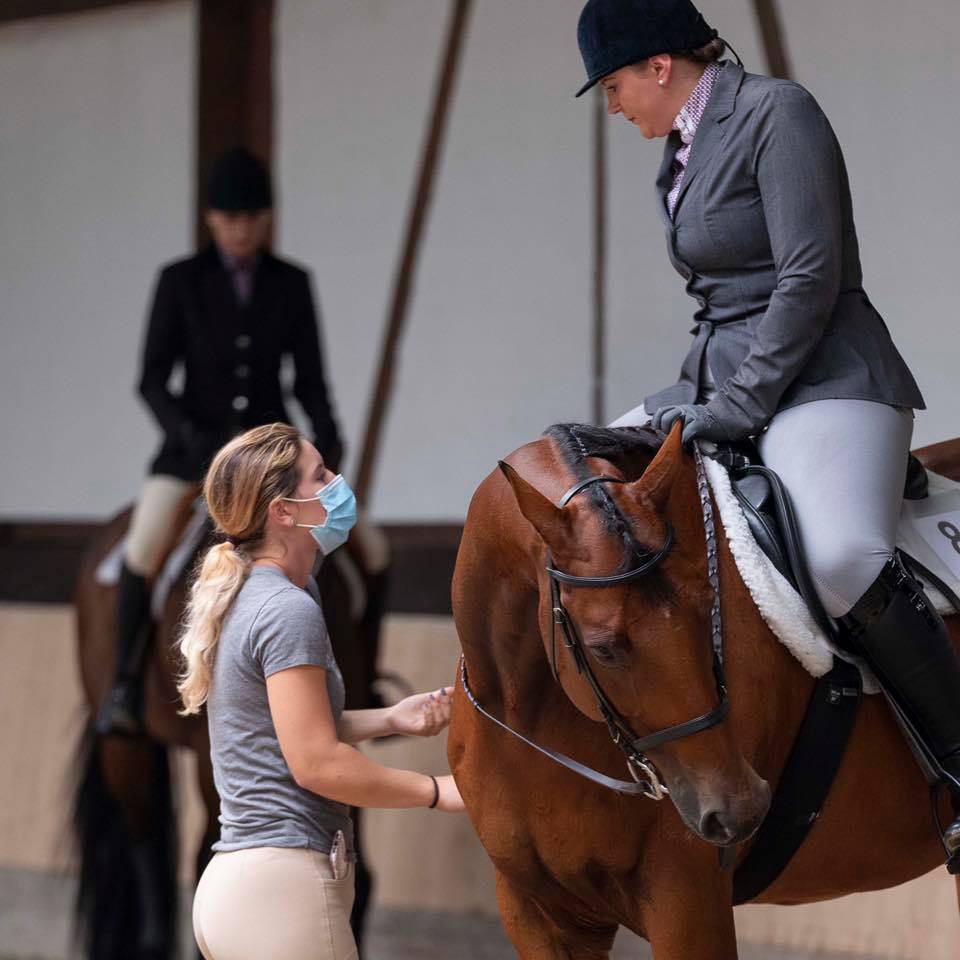 What are your goals?
I want to expand my knowledge and have a back-up for my future. It would be cool if I could combine my work and what I have learned at university in the future. That would be my dream! However, I do have to get away from planning everything too much and go with the flow. Whatever waits in the future will be a challenge, will make me grow as a person and will make me learn more – I am looking forward to it!
Pferdetrainer zu sein, ist riskant. Für den Beruf gibt es kaum staatliche Absicherungen, man ist schnell arbeitslos – wenn beispielsweise alle Kunden die Pferde nachhause holen und keine Kurse stattfinden können. Dieses Szenario hatte im Corona-Jahr 2020 sicher der ein oder andere Trainer im Kopf. Wir haben mit Laura Weber gesprochen, die sich nicht nur vergangenes Jahr selbstständig gemacht hat, sondern seit Kurzem auch noch studiert. Wir haben über die Gründe dafür gesprochen und ob Pferdetrainer eine zusätzliche Ausbildung brauchen.
Du studierst jetzt — erzähl doch einmal genau, was du studierst.
Ich studiere International Management im sogenannten Tagesstudium an der FOM in Köln. Tagesstudium bedeutet, zwei volle Tage in der Woche Vorlesungen zu haben und diese natürlich vor- und nachzuarbeiten. Das hat für mich berufsbegleitend in dieser Form einfach am meisten Sinn ergeben. Aktuell ist natürlich alles online, normalerweise ist es aber ein Präsenzstudium.
Heißt das, du wirst das Pferdetraining nicht weiter beruflich betreiben?
Doch auf jeden Fall. Deswegen auch die Entscheidung für den berufsbegleitenden Weg. Die Arbeit mit den Pferden und meinen Kunden macht mir zu viel Spaß, um sie einfach an den Nagel zu hängen! Ich musste das Ganze nun natürlich ziemlich reduzieren, vor allem, weil ich sehr spontan nachträglich in das Wintersemester einsteigen konnte und jetzt Einiges nachzulernen habe. Glücklicherweise habe ich viele verständnisvolle Kunden, die mir dies nicht übel genommen haben und flexibel sind – dafür bin ich sehr dankbar.

Es gibt ja auch viele "Pferdestudiengänge" — wieso hast du nicht einen von diesen gewählt?
Ich wollte bewusst etwas in eine ganz andere Richtung studieren, um mir auf Dauer eine Absicherung aufzubauen. Zwar geht das sicher auch mit einem "Pferdestudiengang", allerdings fand ich gerade diesen Kontrast zu meiner täglichen Arbeit ganz interessant. Da mir sehr früh klar war, was ich beruflich machen möchte, hatte ich mich vorher noch nie wirklich damit beschäftigt, was mich ebenfalls interessieren könnte. Mit International Management habe ich nun einen Basisstudiengang gewählt, mit dem ich später vieles machen kann. Außerdem interessieren mich viele Inhalte wirklich – vor allem der internationale Aspekt. Ein schöner Pluspunkt ist, dass ich vieles direkt in meiner Selbstständigkeit umsetzen und beobachten kann!
Wieso ist eine Ausbildung (Studium o. Ä.) aus deiner Sicht für Pferdetrainer wichtig?
Für die reine Arbeit als Pferdetrainer, würde ich sagen, braucht man kein Studium. Eine Ausbildung zum Pferdewirt finde ich hier allerdings schon empfehlenswert, einfach um gewisse Basics, nicht nur rund ums Pferd, sondern auch in steuerlichen, rechtlichen und wirtschaftlichen Dingen zu festigen. Grade in den letzten Monaten, auch durch die Corona-Krise, habe ich gemerkt, dass es in diesem Berufsfeld umso wichtiger ist, ein zweites Standbein – oder zumindest die Möglichkeit dafür – zu haben. Und wenn nicht jetzt, wann dann?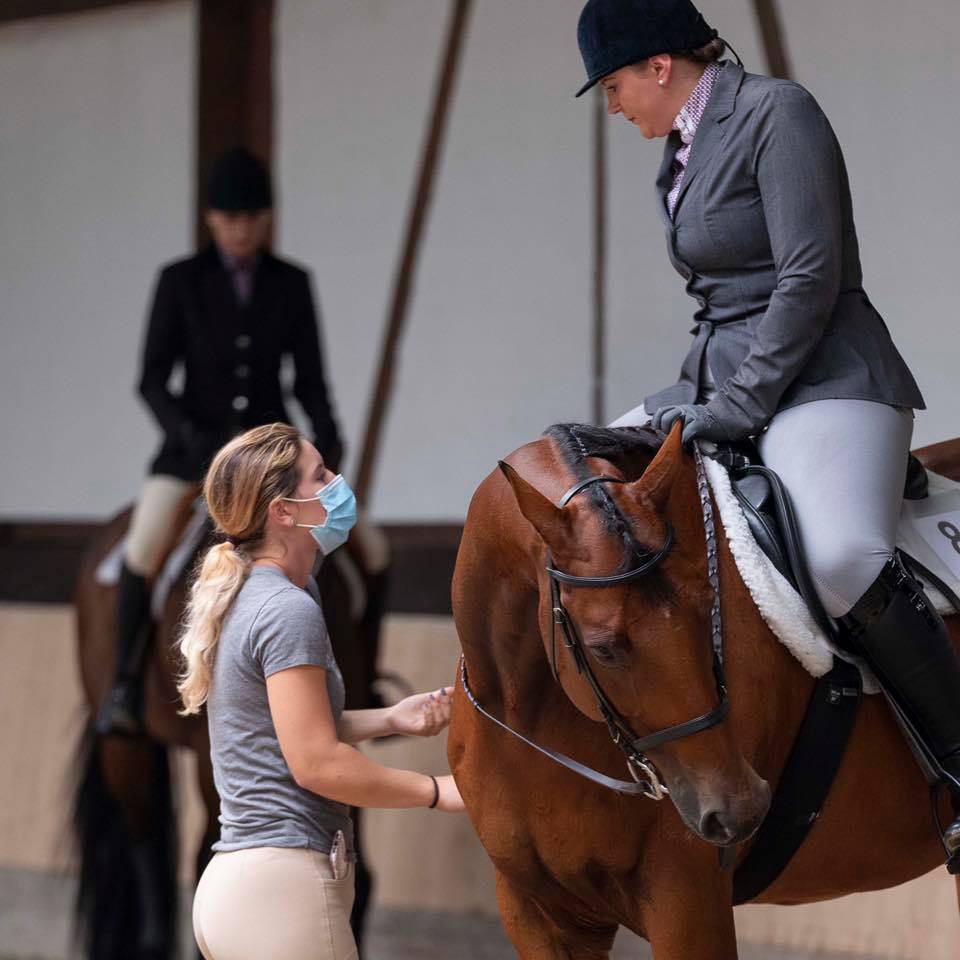 Was ist dein Ziel?
Mein Ziel ist es in erster Linie, meinen Wissenshorizont zu erweitern und eine Absicherung für die Zukunft zu bilden. Vielleicht ergibt sich in den nächsten Jahren beruflich etwas, das sich mit der Arbeit als Trainer und Coach verbinden lässt. Das wäre natürlich ein Traum! An dieser Stelle muss ich leider meinen "Zwang", alles genaustens zu planen, ausschalten und die Dinge einfach mal auf mich zu kommen lassen…Was auch immer kommt, es wird mich herausfordern, ich werde daran wachsen und dazu lernen – ich freue mich darauf!