"Make-up? Why would that be important? I thought your rides are being judged, not the way you look?" This is a statement that some female allround exhibitors might have heard from others, whether that be outsiders, male riders or ranch riding exhibitors. But, as we all know: If you look good, you feel good. This is especially important for events such as showmanship where a poised attitude can definitely improve your score! For that reason and because Showmanship is one of those events where the judges might see your face from the closest distance, we have asked our make-up expert, Livvie Van Lanen, to focus on Showmanship make-up in her first article in collaboration with The Showlife. Below, you will find a tutorial on how to create the ideal Showmanship make-up.
"Make-up? Das ist doch auf der Show nicht wichtig – es geht doch ums Reiten, nicht um das Aussehen!" Diese Aussage hat die ein oder andere weibliche Allround-Reiterin bestimmt schon einmal gehört, egal ob von ihren männlichen Mitstreitern, Außenstehenden oder Ranch Riding Vorstellern. Aber, wie wir alle wissen, fühlt man sich allgemein besser, wenn man gut aussieht. Gerade in Disziplinen wie Showmanship ist das ein Faktor, den man nicht unterschätzen sollte! Ein selbstbewusstes Auftreten kann einen Showmanship-Score durchaus steigern. Aus diesem Grund und weil Showmanship die Disziplin ist, bei der man oftmals näher an den Richter rankommt als in anderen Klassen, haben wir unsere Make-Up Ansprechpartnerin, Livvie Van Lanen, gebeten, uns in unserem ersten gemeinsamen Artikel ein paar Tipps zum Thema "Showmanship Make-Up" zu geben. Im Folgenden findet Ihr ein komplettes Tutorial für ein schönes Make-Up, das Eure Präsenz im Showmanship-Pen unterstreicht. Ihr findet die deutsche Übersetzung diesmal direkt unter den englischen Sätzen.
Hello lovelies!
First off, I would like to say how excited I am to be collaborating with The Showlife! My name is Livvie Van Lanen and I run my personal beauty blog LIVDAILY XO. I began my blog to combine my passions of writing and makeup. I am a self-taught makeup artist, from Green Bay, Wisconsin. However, I also show horses, so I understand the importance of makeup in the arena. The best way to look at show makeup is understanding how to enhance your features. Today, I've created a makeup tutorial for beginners. It is incredibly important to be comfortable with the amount of makeup you're wearing. I have done makeup looks on women that preferred a more natural look, and women who love to be completed glam. The tutorial below is somewhere in between!
Hallo ihr Lieben,
zuerst einmal möchte ich sagen, wie sehr ich mich über die Zusammenarbeit mit The Showlife freue! Mein Name ist Livvie Van Lanen und ich habe einen eigenen Beauty Blog namens LIVDAILY XO. Ich habe angefangen zu bloggen, um meinen beiden Leidenschaften – Schreiben und Make-Up – nachzugehen. Ich komme aus Green Bay, Wisconsin und habe mir die Kunst des Make-Up selbst beigebracht. Da ich selbst auch showe, weiß ich, wie wichtig Make-Up im Showring sein kann. Die beste Strategie ist, sich auf die eigenen Vorzüge zu konzentrieren und diese herauszuarbeiten. Diesmal habe ich ein Make-Up Tutorial für Anfänger entworfen. Es ist sehr wichtig, sich mit der Menge an Make-Up, die man trägt, wohl zu fühlen. Ich habe schon Frauen geschminkt, die es lieber schlicht mochten und solche, die sich ein sehr glamouröses Make-Up gewünscht haben. Das folgende Tutorial liegt irgendwo in der Mitte davon.
1. Whenever I'm creating a makeup look, I make sure my face is clean and moisturized. I think of makeup as an art: you always need a clean canvas. I am currently using CeraVe Moisturizing Lotion for Normal to Dry Skin. This moisturizer is affordable and leaves my skin feeling silky-smooth.
1. Bevor ich mein Make-Up beginne, achte ich darauf, dass mein Gesicht sauber und mit ausreichend Feuchtigkeit versorgt ist. Ich sehe Make-Up als Kunst: Man braucht eine leere Leinwand! Momentan benutze ich CeraVe Moisturizing Lotion für normale bis trockene Haut. Diese Feuchtigkeitscreme ist nicht zu teuer und verleiht ein seidig-weiches Hautgefühl.
2. Before I apply any makeup, I always use primer. I am currently obsessed with Benefit's The Pore-fessional primer. It leaves a nice matte finish.
2. Bevor ich Make-Up benutze, trage ich immer Primer auf. Momentan liebe ich den The Porefessional Primer von Benefit, da er ein mattes Finish hinterlässt.
3. After primer, I apply foundation with my damp Beauty Blender. For today's look I used Becca Aqua Luminous Perfecting Foundation in Porcelain.
3. Nach dem Primer trage ich mit einem feuchten Beauty Blender die Foundation auf. Für diesen Look habe ich die Becca Aqua Luminous Perfecting Foundation in "Porcelain" benutzt.
4. Under my eyes I applied my waterproof Makeup Forever Full Coverage foundation.
4. Unter den Augen trage ich die wasserfeste Makeup Forever Full Coverage Foundation auf.
5. I set both my foundation and concealer with my Mac Studio Fix powder in shade NW15
5. Ich fixiere Foundation und Concealer mit dem Mac Studio Fix Puder in der Farbe NW15.
6. After my skin has a nice base, I apply bronzer with an angled brush on my cheek bones, hair line, and under my jaw. Whenever I apply bronzer, I make a "kiss face" and always make sure to start with light coverage and build with more product, to make sure I don't bronze too much! I currently am obsessed with Benefit's Hoola Bronzer.
6. Jetzt hat meine Haut eine gute Basis, um Bronzer an den Wangenknochen, dem Haaransatz und unter dem Kiefer aufzutragen. Wenn ich Bronzer auftrage, mache ich einen Kussmund und achte darauf, immer erst leichte Akzente zu setzen und je nach Bedarf mehr aufzutragen, damit ich nicht zu viel Bronzer verwende! Zur Zeit ist mein Favorit der Hoola Bronzer von Benefit.
7. After I'm bronzed…I apply a little bit of Nars Blush in Orgasm, and I lightly dust my cheekbones with highlighter. I recently invested in the Anastasia Glow Palette. My favorite shade is White Sand. However, it can be really fun to layer these highlighters, but today I just used my favorite!
7. Danach trage ich ein bisschen Blush von Nars in der Farbe Orgasm auf und benutze ein wenig Highlighter um die Wangenknochen hervorzuheben. Ich habe mir erst kürzlich die Anastasia Glow Palette gekauft. Mein Lieblingsfarbton ist White Sand. Es kann wirklich Spaß machen, verschiedene Highlighter aufzutragen, dieses Mal habe ich aber nur meinen Lieblingsfarbton benutzt.
8. Next is brows! I am a firm believer in my Anastasia Dip Brow Pomade. I use "Blonde". I've been using this product for years now! I apply this product with a light hand and angled brush. Always remember that less is more!
8. Nächster Schritt: Augenbrauen! Ich bin sehr überzeugt von der Anastasia Dip Brow Pomade, die ich seit Jahren im Farbton "Blonde" benutze. Beim Auftragen verwende ich einen schrägen Pinsel und trage relativ wenig auf, denn weniger ist ja bekanntlich mehr!
9. After my "face" is done…I move on to eyes.
9. Nach dem "Gesicht", kümmere ich mich um die Augen.
10. For a base I begin with a primer, and then lightly tap a dust of gold shadow on my lid. I recently bought the Morphe 35 N palette. It is affordable and has so many awesome shades! I just used the gold shadow for my base.
10. Ich beginne auch hier mit einem Primer und verteile dann vorsichtig ein bisschen goldenen Lidschatten auf dem Lid, den ich mit den Finger einklopfe. Ich habe mir kürzlich die Morphe 35 N Palette gekauft, die viele tolle Farben hat und nicht allzu teuer ist. Daraus habe ich den goldenen Lidschatten für die Basis verwendet.
11. After the base of my lid is done, I work in a color into the crease of my eye. Today I used "Sidecar" from the Naked palette.
11. Nach dem ich die Basisfarbe aufgetragen habe, setze ich einen farblichen Akzent in die Lidfalte. Dieses Mal habe ich "Sidecar" aus der Naked Palette verwendet.
12. Next I did a smoky liner look with brown eyeshadow. Simply wiggle a thin angled brush into your lash line to create this effect!
12. Als Nächstes folgt ein "smoky liner look" mit braunem Lidschatten. Dafür einfach den Lidschatten mit einem dünnen schrägen Pinsel am Wimpernkranz auftragen, am besten in einer wischenden Bewegung, damit es natürlich verblendet aussieht.
13. Next, apply lashes! Before applying falsies, always curl your lashes and put a thin layer of mascara as a base. I use Beauty For Real Hi-Def mascara!
13. Nächster Schritt: Wimpern ankleben! Bevor man das macht, sollte man die falschen Wimpern mit einer Wimpernzange in Form bringen und eine dünne Schicht Mascara auftragen. Ich benutze immer Beauty For Real Hi-Def Mascara.
14. Apply your lashes once the glue is tacky.
14. Trag die Wimpern auf, sobald der Kleber zäh genug ist!
15. To ensure your lashes go on smoothly, I always use a lash applicator.
15. Damit die Wimpern ohne Probleme kleben, benutze ich einen Lash Applicator.
16. After my upper lashes are done, I apply a few coats of mascara to my bottom lashes!
16. Nachdem ich mit den oberen Wimpern fertig bin, trage ich ein wenig Mascara auf die unteren auf.
17. Boom! Done with eyes!
17. Boom – fertig mit den Augen!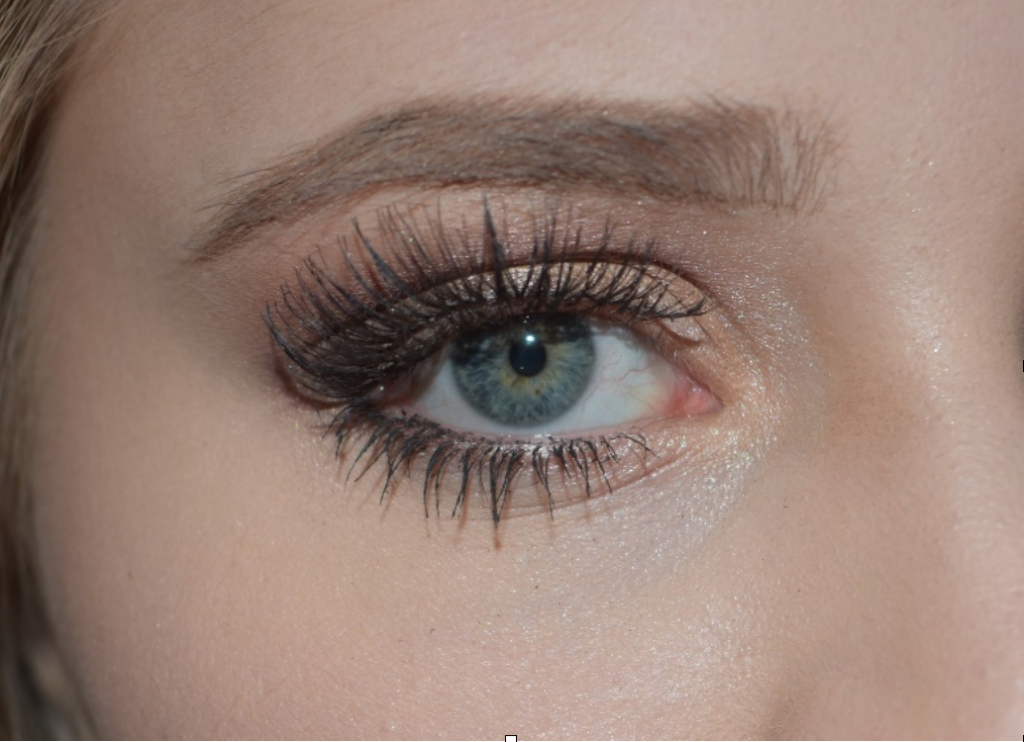 18. Finally…. Lips. Lipstick is so important for showing. Lipstick puts a pop of color on your face! Today's look I chose a gorgeous purple/pink shade… Mac's Men Love Mystery.
Lipstick is one thing that I change up a lot when I'm showing. For showmanship I almost always wear a cherry red, but for most of my riding classes, this is my shade of choice!
18. Endlich sind die Lippen dran! Lippenstift ist beim Showen sehr wichtig, da er viel Farbe in das Gesicht bringt. Für diesen Look habe ich einen tollen pinken/lila Farbton gewählt: MAC's Men Love Mystery.
Ich wechsle den Lippenstift sehr oft, wenn ich showe: Je nach Klasse verwende ich einen anderen. Für Showmanship nehme ich auch oft ein Kirschrot, für Reitklassen fast immer den, den ich für dieses Tutorial verwendet habe.
As always, embrace your beauty; enhance your features; and be confident! I hope this tutorial helps you feel confident in the arena!
Wie immer gilt natürlich: Mach Dir Deine Schönheit zu eigen, zeige Deine Vorzüge und sei selbstbewusst! Ich hoffe, dieses Tutorial hilft Euch bei einem selbstbewussten Auftreten im Showring!
Thank you for your great advice, Livvie!
Text & pictures: Livvie Van Lanen
Since many products are not always available in Europe, we will post a list on where to get them or how to get them sometime during the next week!
Da viele Produkte, die Livvie erwähnt hat, nicht so ohne Weiteres in Europa/Deutschland erhältlich sind, werden wir in der kommenden Woche einen Artikel posten, in dem wir erklären, wo Ihr was findet bzw. mit welchen Produkten Ihr es ersetzen könnt.