Pattern classes + Youth and Amateur riders – those two categories seem to be inextricably linked to each other. Open riders in Showmanship or Horsemanship? Uhhh, no. No, but only if you are at a regular AQHA, APHA or NSBA Show. If you are the the VWB/AQHA Shows in Kreuth, Bavaria, and you are a trainer, you have the chance to participate in two of the most challenging pattern classes, namely Showmanship and Horsemanship. The Golden Series Showmanship has been part of the program for several years, whereas the Series Horsemanship has been introduced again last year. We have asked two trainers who participated in the first go-round at the BSC, why the chose to enter the Golden Series Horsemanship.
ARNE KÜHN
Arne Kühn (competed with Ice Ice Lazy): I never had a horse of my own and therefore never a Youth or Amateur career and could not show in Horsemanship or Showmanship. Since I love to teach those events, I have always wanted to show in them. I've considered competing in the Golden Series Showmanship once or twice previously. When they offered Golden Series Horsemanship for the first time last year, I started to prepare VS Secret Code aka Owen for the class – but since he had many events to do at that time and he was still young, we let go of that idea. When Whitney [Lagace] gave a clinic in Germany last year, I told her about the Golden Series classes which are open for riders of all divisions. She loved the idea and encouraged me to compete in those classes, because you learn a lot more about an event if you show in it yourself instead of just teaching on a theoretical basis.
When I moved to Nuremberg last year, Franca and I had the idea that I could try Ice Ice Lazy aka Harley for Horsemanship. We talked to Harley's owner Dunja Klein and she loved the idea as well. Harley is very good-minded and easy to show in many events. Furthermore we thought it would be great if we could add another event to her repertoire. She is already showing in Hunter under Saddle, Trail and Showmanship. We started to work with the reining riders in our barn to work on turns, so they would be fast and smooth. I have to say that it was lots of fun and I developed a lot as a rider – especially working that much on my body position. I loved showing Horsemanship as well! It felt great and I was so surprised by Harley's performance, because this was the first time I was showing her. We will give our best at the Bavarian Championship and I hope that we can make it into the finals which are held during the Summer Show. I would like to thank Franca Bartke and Dunja Klein for giving me this opportunity!
NINA OBERMÜLLER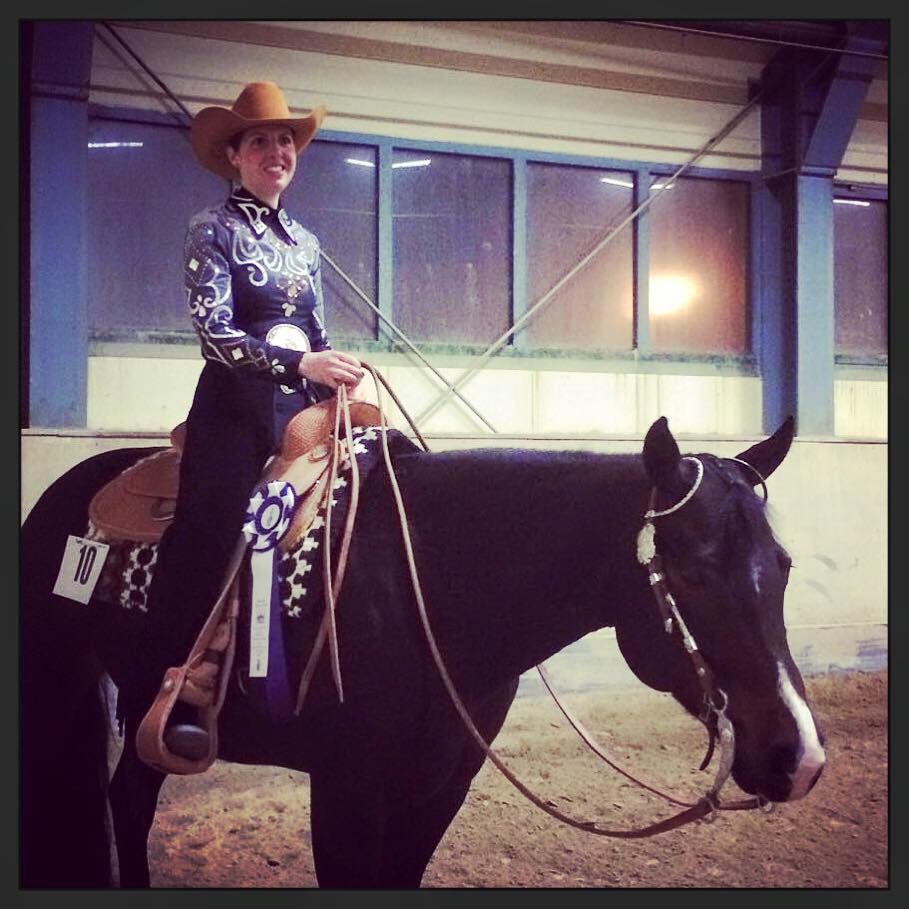 Nina Obermüller (competed with Aint Gonna Dance): I've enjoyed showing Horsemanship as a Youth rider a lot – it was one of my favorite events! Since you cannot continue showing pattern classes with the AQHA as a trainer, I try to take any chance to compete in Horsemanship that comes my way. That is why I love the VWB Golden Series Horsemanship! Aint Gonna Dance aka Annie and I have competed last year as well. I really hope they let Horsemanship be part of the Golden Series program for a long time! You need a really, really good pattern horse – a tough challenge for a trainer: Since a trainer does not have all the horses in full-time training, the bond between us and the horse is not always as good as it would be with a horse that you ride all the time. I think you can really see that if you look at the results in the Golden Series Horsemanship: Most often one of the really good Amateur competitors wins the class instead of an Open rider. I think this class great because we trainers do focus a lot more on our body position and everyone has a real chance to win the title!
---
Deutsche Version
Pattern Klassen + Youth/Amateur Reiter – diese zwei Kategorien gehören untrennbar zusammen. Trainer in Showmanship oder Horsemanship? Ähhhh, nein. Zumindest nicht, wenn man auf einer normalen AQHA, APHA oder NSBA Show ist. Ist man allerdings als Trainer auf einer der zwei VWB/AQHA Shows in Kreuth, die vor dem Finale stattfinden, hat man die Chance an zwei der schwierigsten Patternklassen, Horsemanship und Showmanship, teilzunehmen. Die Golden Series Showmanship gibt es schon seit einigen Jahren, die Series Horsemanship ist seit letztem Jahr wieder Teil der Golden Series Klassen. Wir haben zwei Trainer, die am ersten Go-Round auf der BSC teilgenommen haben, gefragt, was ihnen an dieser Klasse gefällt.
ARNE KÜHN
Arne Kühn (nahm mit Ice Ice Lazy teil): Ich hatte nie ein eigenes Pferd und insofern keine Youth oder Amateur Karriere und konnte eben nicht in Showmanship oder Horsemanship showen. Da das aber beides Klassen sind, die ich gerne trainiere und unterrichte, hatte ich schon immer Lust, in so einer Klasse zu showen. Ich habe sogar ein paar Mal überlegt, die Golden Series Showmanship zu nennen. Als dann vergangenes Jahr zum ersten Mal die Golden Series Horsemanship angeboten wurde, hatte ich angefangen, VS Secret Code (Owen) dafür zu trainieren – habe ihn dann aber nicht geshowt, da er als junges Pferd ohnehin schon in vielen Klassen gestartet ist. Als Whitney [Lagace, Anm. d. Red] letztes Jahr da war, hatte ich mich mit ihr darüber unterhalten, dass es bei uns diese Klassen gibt. Sie fand die Idee toll und meinte, ich sollte die Gelegenheit auf jeden Fall wahrnehmen, da man, wenn man eine Klasse selber showt, auch einen anderen Einblick in die Disziplin bekommt und man noch einmal eher weiß, was in der jeweiligen Disziplin gefragt ist. Selber showen ist eben doch etwas Anderes, als auf theoretischer Basis zu unterrichten.
Als ich Anfang des Jahres nach Nürnberg zog, hatten Franca und ich die Idee, dass ich Horsemanship mit Ice Ice Lazy (Harley) probieren könnte, da Harley sehr good-minded ist, sich in allen Klassen schön showen lässt und sie dadurch außerdem eine neue Disziplin zu ihrem Repertoire hinzufügen könnte, nachdem sie ja schon Trail, Hunter und Showmanship beherrscht. Wir haben dann angefangen mit den Reinern bei uns im Stall an den Turns zu arbeiten, damit am Ende schöne, flüssige Spins dabei rauskommen. Ich muss sagen, dass das sehr viel Spaß gemacht hat und mich sicher auch weitergebracht hat, gerade auch das Arbeiten am eigenen Sitz – das ist ja auch nie verkehrt. Auch das Showen hat mir sehr viel Spaß gemacht, es hat sich sehr gut angefühlt und ich war überrascht, wie gut Harley sich bei unserem ersten gemeinsamen Auftritt showen ließ. Ich werde auch auf der Bayerischen noch einmal alles geben, in der Hoffnung, dass wir auf der Summer Show dann im Finale mitreiten können! Ich möchte mich außerdem bei Franca Bartke und Dunja Klein dafür bedanken, dass ich Harley showen durfte!
NINA OBERMÜLLER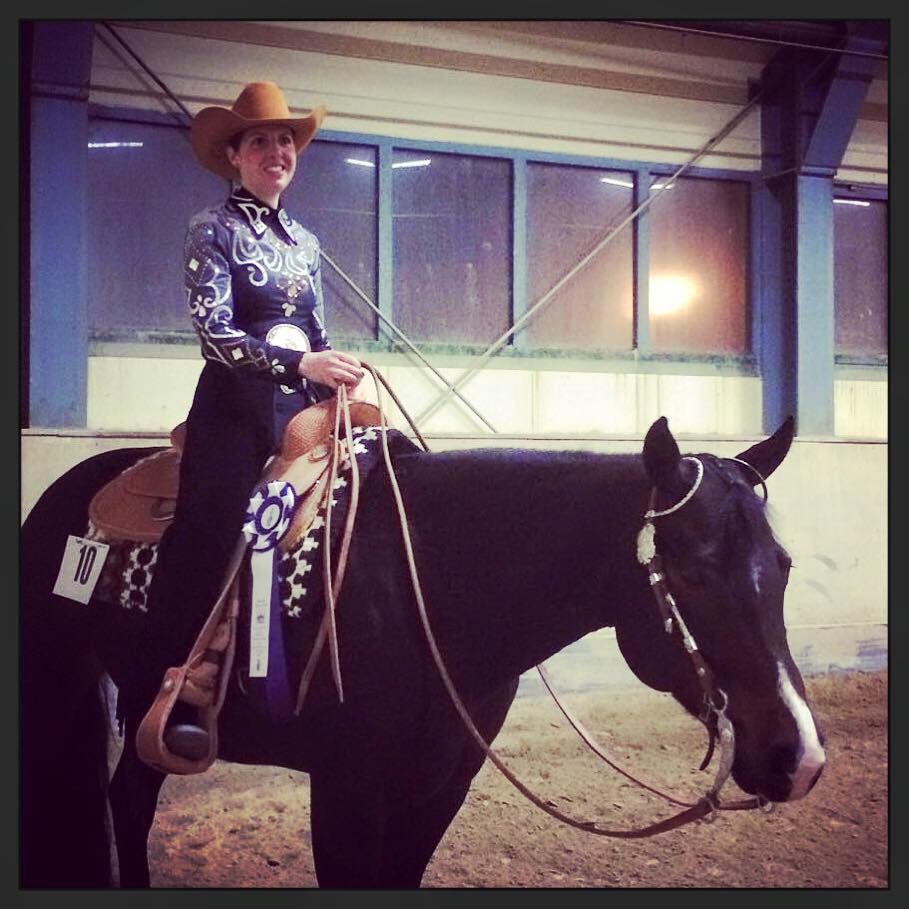 Nina Obermüller (nahm mit Aint Gonna Dance teil): Ich bin Horsemanship schon als Jugendliche immer gern geritten, das war eine meiner absoluten Lieblingsdisziplinen. Da damit ja leider mit dem Beginn der Karriere als Pro in der Regel Schluss ist, außer seit der Umstellung der EWU auf Leistungsklassen, nehme ich gerne jede Gelegenheit wahr, um in dieser Disziplin zu starten. Daher finde ich die VWB Golden Series Horsemanship eine super Sache. Schon letztes Jahr waren "Annie" und ich dabei. Und ich hoffe sehr, dass es weiterhin eine Series Disziplin bleibt. Man braucht dafür ein gutes Pattern-Pferd mit dem man gut eingespielt ist, was beim Profi Reiter in der Regel mit den Berittpferden, die er nur zeitweise zur Verfügung hat, nicht immer gegeben ist. Was sich gern dann in der Klasse dadurch zeigt, dass die sehr guten Amateure mit ihren Pferden auf den vorderen Plätzen anzutreffen sind. Es gibt also eine reelle Chance für jeden und wir als Pro's behalten unseren eigenen Sitz etwas mehr im Blick!