Some hate it, some love it: the fact that our Western horses become more specialized year by year. While some enjoy the fact that they can have a top notch Western Pleasure or Reining horse, others prefer a Quarter Horse, Paint Horse or Appaloosa that can do it all, from Halter over Western Horsemanship to cattle classes. But how important is a specialized horse to win big at the big shows? Does it take certain bloodlines to win the trophy or will blood, sweat and tears do the job? We have talked to two young ladies, Robyn Barkey and Lena Reim, who have been successful in AQHA allround classes at the big shows – with horses that do not come from Western Pleasure/allround bloodlines.
Robyn is from the Netherlands and shows the family's AQHA gelding Badgers Lucky Boots a great-grandson of Peppy San Badger. In 2019, at the Q19, Robyn and "General" took home the silver medal in the Amateur Western Horsemanship, one of the most competitive classes on the European circuit. When looking at Robyn's Instagram account, one will quickly notice that this girl works hard every day.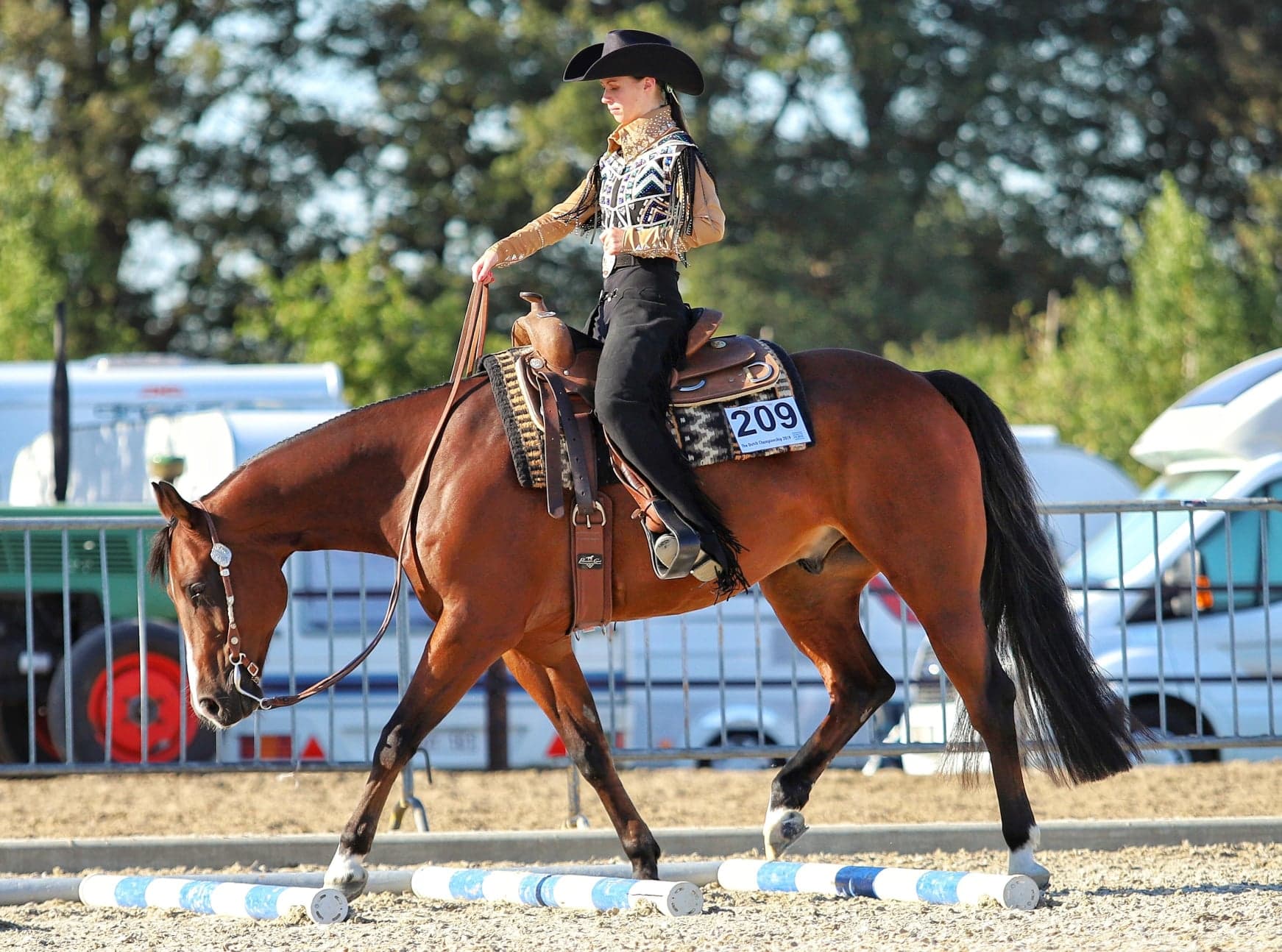 Her attitude might be grounded in the fact that her first pony, an American Miniature Appaloosa called Woody, wasn't that easy: "I learned a great deal from that pony. He showed me all corners of the arena and if you fall off, you get back on again. No excuses," Robyn says. She got her love from her Mom who rode Western horses ever since Robyn can remember.
The same is true for Lena: "Right after I was born, my Mom started riding a Quarter Horse mare called Giny whose foal we purchased in 2004. A few years later, we purchased Giny as well – she was supposed to teach me how to ride when I was a kid. Given that, I was a horse-addict from an early age on."
The horse she is showing now is Giny's son called Brioni Boon: "Giny is from Cutting/Foundation bloodlines and Brioni is a grandson of the legendary Peptoboonsmal. Cutting fans would definitely love his pedigree," Lena says. The two have been a team from day one: "I taught him everything, all the basics as a weanling, I started him under saddle and was the first one who showed him." The team currently competes in Trail, Hunter under Saddle and Showmanship and was in the top five of the Limited Golden Series Trail at the 2019 Bavarian Championship. They were also named the Reserve Circuit Champion L1 Hunter under Saddle at the 2019 ECQH and took home multiple top three placings in the AQHA classes in the past year. "He is a calm, easy horse and when we saw him under saddle for the first time, we know that he was not a Cutting horse. So we started working on the classes that he had talent for." Lena says, he "had no other choice than doing the allround events", since she didn't like the Reining and knew nothing about Cutting: "We just chose a Cutting bred stallion for our mare because we thought he might match her bloodlines. I was eleven years old at that point and didn't think about showing at all." After some clinics with allround coaches she developed an ambition to compete at the big, international shows: "He learned a lot and I worked hard so that we could compete at those shows – and be successful."
Robyn's horse is Reining bred, but she doesn't show him in the class anymore. Her Mom competes in the Ranch Riding with General. The reason why Robyn does not compete in the Reining anymore is a little different from what Lena told us: "Because of a big tendon injury in Generals hind leg a few years ago, we decided not to train him for the Reining any more. So I started to do Horsemanship and Showmanship. In the beginning, he was a little show smart when you asked him to stop: He only thought of spinning or backing. So it took a lot of work to unlearn all those things. But we all didn't know he would do so well in every class," Robyn recalls. The team was the bronze medal winner in the Amateur Showmanship at the Q18 and was a multiple medal winner at the NQHA Championships as well. "We never expected to win anything, I just rode and wanted to show what we learned in the past months. And it's true: Hard work pays off," Robyn says.
People usually react positively towards the fact that General is not from Western Pleasure bloodlines: "I get so many sweet reactions! A lot of people know how hard it can actually be. For a long time, I thought that I would never be as good as the people who competed in my class, that I needed a Pleasure bred horse to make it to the top three. But he definitely proved me wrong about that! If you work hard on yourself and you have a good connection with your horse, it doesn't matter on what type of horse you show. And people see that too!"
Lena agrees: "People usually can't believe it if I tell him that he is a Cutter. I think that is because they think of small, rather ugly horses who aren't good movers. Brioni does away with those prejudices." When it comes to judges, Lena has experienced both: "I feel like some judges don't realize that he is a Cutter while others have certain preferences in horses and place those horses better. This usually happens in the Hunter under Saddle when they judges prefer taller horses with more of a Hunter look. Incidents like that are an exception, however."
When asked whether she thinks that her horse will reach its potential earlier than Western Pleasure bred horses, Lena replies: "In the beginning, we were thinking about that a lot. But I think we underestimated him. We even bought a Western Pleasure bred weanling, because we figured that he would only be able to compete to a certain level. Well, he proved us wrong." Lena does admit that there is one class she would not dare to compete in: "The Western Pleasure, because the competition is too tough for him. I focus on the classes he likes and he can do without being forced to anything." Over the winter, the team has worked on their Horsemanship skills and started Hunt Seat Equitation with the help of Franca Bartke. "I think he is not done yet. Horses can learn so much and even though you might see less progress as they get older, there is always room to turn weaknesses into strengths."
Robyn has some idols such as Sophie Gillioz and Laura Weber from Europe but also Deanna Green, Emma Brown and Olivia Tordoff from the States. Her biggest idol, however, is her Mom, she stresses. The fact that Robyn is so successful in the allround classes with a Reining bred horse, might make her an idol for many other riders. When asked for advice for other riders she says: "Having a good base is everything! Having full body control over your horse. My Mom and I are very into these basic exercises. Sometimes, I have to remind myself that he will never move like a Pleasure bred horse. You can't change that. But you can improve his movement and make sure he can perform at his best by making him supple, flexible and strong. He has his own style and that is his strength, I guess."
Robyn has already reached many goals she had with General, but she still dreams of winning a FEQHA European Champion title with him – "with the horse we trained ourselves". Another dream of hers is to compete at the AQHA World Show and walk underneath the Gateway of Champions.
Lena was dreaming of collecting less than two point to complete Brioni's Open and Youth ROM: "That would have been a great finish to my Youth career." Everything is now different due to the Corona virus: "I also want to find out if we can keep showing at that level and how we will do in the Amateur classes in the future." Lena stresses that her Mom and her trainer Franca Bartke have played a huge role in her success and she wants to thank them: "My Mom has always supported me and I have learned so much from Franca."
Wie wichtig ist die Abstammung, um erfolgreich zu sein?
Manche lieben diese Entwicklung, andere hassen sie: die Tatsache, dass die Westernpferde von Jahr zu Jahr spezialisierter werden. Während Einige es gut finden, dass es für jede Disziplin extra gezüchtete Pferde aus bestimmten Linien gibt, wünschen andere sich Westernpferde, die von Halter über Horsemanship bis zu den "Kuhklassen" alles auf hohem Niveau machen können. Doch wie wichtig sind die Zuchtlinien, um auf den großen AQHA-, APHA- und ApHC-Turnieren erfolgreich sein zu können? Braucht man ein speziell gezogenes Pferd oder reicht es, viel Arbeit in die Sache hineinzustecken? Wir haben mit zwei Reiterinnen, Robyn Barkey und Lena Reim, gesprochen, die in AQHA-Klassen auf internationalen Turnieren erfolgreich sind – und das obwohl ihre Pferde absolut nicht aus Western Pleasure/Allround-Linien sind.
Robyn kommt aus den Niederlanden und reitet das Familienpferd Badgers Lucky Boots, einen Urenkel von Peppy San Badger, auf Turnieren. Auf der Q19 im vergangenen Jahr haben die beiden die Silbermedaille in der Amateur Horsemanship – die als eine der stärksten Klassen gilt – gewonnen. Wer sich Robyns Instagram-Profil anschaut, der merkt schnell: Diese Reiterin arbeitet jeden Tag an ihrem reiterlichen Können.
Diese Disziplin kommt möglicherweise daher, dass ihr erstes Pony, ein American Miniature Appaloosa namens Woody, auch nicht besonders einfach war: "Ich habe viel von diesem Pony gelernt. Er hat mir alle Ecken der Halle gezeigt und wenn ich heruntergefallen bin, bin ich sofort wieder aufgestiegen – ohne Ausrede", sagt Robyn. Die Liebe zum Westernreiten hat sie von ihrer Mutter, die Westernpferde hatte, seit Robyn denken kann.
Lenas Geschichte klingt ähnlich: "Das Westernreiten begleitet mich schon mein Leben lang. Meine Mutter hatte kurz nach meiner Geburt eine Reitbeiteiligung auf der Quarter Horse Stute "Giny", deren Fohlen wir 2004 kauften. Einige Jahre später haben wir dann auch Giny aufgrund ihres tollen Charakters sowie ihrer Zuverlässigkeit als Kinderpferd für mich übernommen und sie hat mir dann alles rund um das Westernreiten beigebracht. Ich bin also schon von kleinauf mit dem Pferdevirus infiziert."
Das Pferd, das Lena momentan reitet, heißt Brioni Boon und ist Ginys Sohn: "Wir haben Brioni Boon selbst gezüchtet und er stammt aus meinem damaligen Lehrpferd Giny, einer Cutting/Foundation gezogenen Stute. Zudem ist er ein Enkel des im Cuttingsport legendären, Peptoboonsmal. Cuttingfans würden also auf jeden Fall Gefallen an ihm finden." Die beiden sind seit Tag eins ein Team, Lena hat ihm vom Fohlen-ABC über das Anreiten bis hin zum ersten Turnierstart fast alles selbst beigebracht. Die beiden starten momentan in Trail, Hunter under Saddle und Showmanship, waren in den Top 5 des Limited Golden Series Trail auf der Bayerischen Meisterschaft 2019, im selben Jahr Reserve Circuit Champion L1 Hunter under Saddle auf dem ECQH und platzieren sich in den Youth-Klassen regelmäßig vorne. "Sein eher gemütlicher, unkomplizierter Charakter hat dies vereinfacht und als wir seine tollen Bewegungen zum ersten Mal unter dem Sattel gesehen haben, war uns endgültig klar: In der Cutting/Reining-Branche wäre er definitiv fehl am Platz. Gemeinsam haben wir unsere Stärken herausgearbeitet, sodass ich heute mit ihm besonders erfolgreich in Trail, Hunter under Saddle und Showmanship an den Start gehen kann", sagt Lena.
Sie erzählt auch, dass Brioni eigentlich "keine Wahl hatte als im Allround-Bereich zu landen", da sie nicht in der Reining starten wollte und zu Cutting keinen Bezug hatte. "Wir haben damals eigentlich nur einen Cutting-Hengst ausgewählt, weil wir dachten, dass diese Linie am besten zu unserer Stute passen würde. Da ich damals selbst erst elf Jahre alt war, habe ich mir über eine zukünftige Show-Karriere auch wenig Gedanken gemacht. Erst durch Kurse mit Allround-Trainern, und deren Bestätigung über Brionis Talent, hat sich mein Ehrgeiz, an großen, internationalen Turnieren teilzunehmen, entwickelt. Danach haben die Dinge einfach ihren Lauf genommen und nicht nur er hat viel dazugelernt, sondern auch ich habe hart an mir gearbeitet, sodass wir nun auf diesem Level erfolgreich sein können."
Robyns Pferd "General" ist Reining-gezogen, sie reitet ihn in dieser Klasse aber nicht mehr. Ihre Mutter startet mit ihm in der Ranch Riding. Robyns Grund, weshalb sie sich auf die Allround-Klassen konzentriert hat, unterscheidet sich ein wenig von Lenas Geschichte: "General hat sich vor einigen Jahren die Sehnen in den Hinterfüßen verletzt, daher showe und trainiere ich keine Reining mehr. Ich habe also angefangen, mich auf Horsemanship und Showmanship zu konzentrieren. Anfangs war das etwas schwierig, denn er dachte nach jedem Stop, dass nun ein Spin oder Back-Up kommt. Es war viel Arbeit, ihm das abzugewöhnen. Ich hätte also nie gedacht, dass er sich in den Allround-Klassen so gut schlägt," sagt Robyn rückblickend. Die beiden haben auf der Q18 die Bronzemedaille in der Amateur Showmanship gewonnen – nur einer von vielen Erfolgen, zu denen auch viele Titel auf dem NQHA Championship zählen. "Ich habe mir nie etwas von all dem versprochen, ich bin einfach geritten und wollte zeigen, was wir in den vergangenen Monaten gelernt haben. Und ich habe gemerkt: Harte Arbeit zahlt sich aus", betont Robyn.
Andere Reiter reagieren laut Robyn meist positiv auf die Tatsache, dass General kein typisches Allround-Pferd ist: "Ich habe so tolles Feedback bekommen! Ich denke, viele Reiter wissen, wie hart es sein kann, mit einem Pferd aus solchen Linien oben mitzureiten. Ich habe lange gedacht, dass ich niemals so gut sein werde wie die Reiter, gegen die ich gestartet bin. Und dass ich ein Pferd aus Pleasure-Blutlinien brauche, um in die Medaillenränge zu kommen. General hat mir das Gegenteil bewiesen. Wenn du hart arbeitest und eine gute Verbindung zu deinem Pferd aufbaust, ist es egal, was für ein Pferd du reitest. Das merken dann auch die anderen."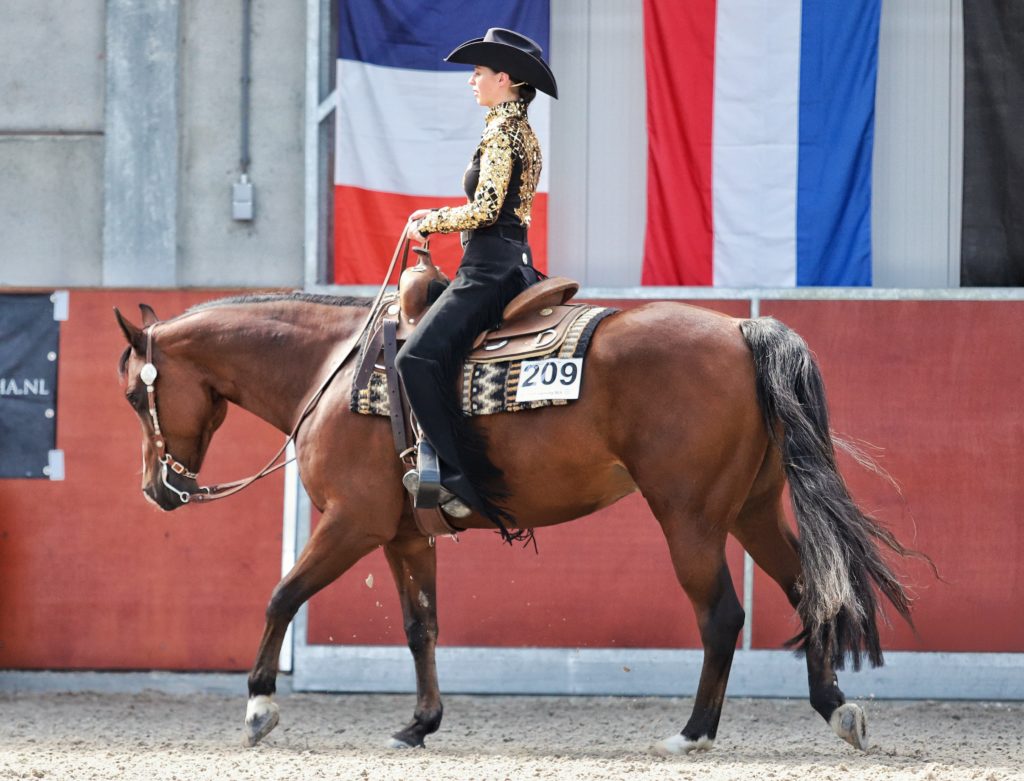 Lena sieht das ähnlich: "Meine Erfahrungen auf den Shows und wenn ich andere Pferdeleute treffe, sind eigentlich durchwegs positiv und die meisten können es im ersten Moment gar nicht glauben, wenn ich erzähle, dass er ein Cutter ist. Viele verbinden diesen Sport nämlich eher mit extrem kleinen, nicht immer sehr hübschen Pferden, die keine besonders gute Gangqualität haben. Wenn sie Brioni sehen, sind sie dann natürlich sehr überrascht." Bei den Richtern hingegen gibt es laut Lena immer zwei Lager: "Bei den einen habe ich das Gefühl, sie merken es gar nicht, dass er kein Pleasurepferd ist und richten extrem fair. Natürlich gibt es aber auch immer Richter, die gewisse Vorlieben haben und diese dann auch verfolgen. Besonders in der Hunter under Saddle empfinde ich das häufig, wenn Richter einfach auf großrahmige Pferde stehen und Brioni für sie zu klein ist und nicht ihrem Ideal entspricht. Dies ist aber wirklich eher eine Ausnahme und ich werde immer wieder positiv überrascht."
Auf die Frage, ob sie das Gefühl hat, dass Brioni im großen Sport eher an seine Grenzen stößt, antwortet Lena: " Anfangs haben wir schon oft darüber nachgedacht, wie unsere Zukunft aussehen könnte und wir haben ihm im Nachhinein auch viel zu wenig zugetraut. Als mein Interesse am Turniersport wuchs, haben wir dann sogar ein Pleasure-gezogenes Fohlen gekauft, weil wir dachten, dass ich mit Brioni nicht dauerhaft auf hohem Level Erfolg haben könnte. Er hat uns aber definitiv eines Besseren belehrt." Eine Klasse startet Lena aber aus gutem Grund nicht: die Western Pleasure: "Da die Konkurrenz einfach immens ist. Ich fokussiere mich mittlerweile nur auf die Klassen, in denen ich denke, dass er mit seinen Fähigkeiten wirklich gut zurechtkommt und ich ihn nicht in irgendeine Form pressen muss. Ich habe über den Winter besonders an der Horsemanship gearbeitet und zusammen mit Franca Bartke, meiner Trainerin, die Hunt Seat Equitation für uns entdeckt. Daran sieht man also schon, dass er in seiner Entwicklung noch nicht am Ende ist. Generell denke ich auch, dass Pferde nie auslernen und man immer Dinge verbessern kann. Im Alter sind die Fortschritte dann vielleicht nicht mehr so groß, wie in jungen Jahren, aber man sollte nie aufhören, Schwächen in Stärken umzuwandeln."
Robyn hat einige Vorbilder, darunter Sophie Gillioz und Laura Weber aus Europa, aber auch Emma Brown, Deanna Green und Olivia Tordoff aus den Staaten. Ihr größtes Vorbild aber sei ihre Mutter. Da Robyn mittlerweile so erfolgreich ist, könnte auch sie als Vorbild für andere fungieren. Auf die Frage, was sie anderen Reitern mit Nicht-Pleasurepferden raten würden, sagt sie: "Eine gute Ausbildung ist alles. Es geht darum, den Körper des Pferdes zu kontrollieren. Meine Mutter und ich mögen diese ganzen grundlegenden Übungen. Ich muss mich manchmal daran erinnern, dass General sich nie wie ein Pleasure-gezogenes Pferd bewegen wird. Das kann ich nicht ändern – und das können andere auch nicht. Aber man kann an den Bewegungsabläufen arbeiten und schauen, dass das Pferd biegsam und stark ist und sein Bestes geben kann. General hat auch seinen eigenen Stil und ich denke, das ist seine Stärke."
Robyn hat die meisten ihrer Ziele mit General schon erreicht – aber sie träumt noch davon, mal mit ihm einen Europameistertitel zu gewinnen: "Mit einem Pferd, das wir als Familie selber trainiert haben." Außerdem möchte sie einmal auf der World Show starten und unter dem Gateway of Champions durchlaufen.
Auch Lena hatte sich für dieses Jahr ein Ziel gesetzt: Ihr fehlen weniger als zwei Punkte, um das Youth und Open ROM voll zu machen: " Als Abschluss meiner Youth-Kariere wäre das wirklich sehr schön. Da dieses Jahr aber wegen Corona alles anders ist, werden wir sehen, ob wir es tatsächlich schaffen werden. Auf lange Sicht möchte ich natürlich das jetzige Niveau beibehalten und bin sehr gespannt, wie wir uns zukünftig bei den Amateuren schlagen werden. Bei dieser Gelegenheit möchte ich mich noch bei zwei Menschen bedanken, die maßgeblich an unseren Erfolgen beteiligt sind: Zunächst bei meiner Mama, die mich immer unterstützt und natürlich auch bei Franca Barke, von der ich wahnsinnig viel gelernt habe!"