Basics, basics, basics – without a good base, horse and rider will never become a successful team. That is why Cédric Leroux will introduce you to some very important basics that will help with your everyday riding.
Cedric Leroux is an European professional rider, trainer and coach. He is an AQHA and APHA Professional Horseman and judge. He started the western riding in 1990 after competing in Dressage and Jumping. He started with Reining and Ranch Riding in California and is now working on all around events.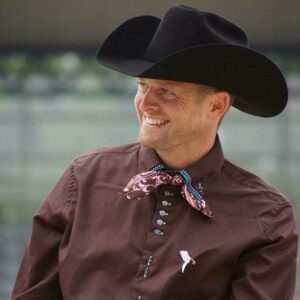 As a rider, Cedric has won many National and European titles in different events such as Halter, Longe line, Hunter under Saddle, Hunter Hack, Trail, Trail in Hand, Ranch Riding, Reining, Team Penning, Western Pleasure and Western Riding. He has had the chance to win the all around Open title at the Q7 as well as the gold medal in Senior Hunter under Saddle, he was AQHA European Reserven Champion in Senior Hunter under Saddle, Futurity PHCG Halter Stallion Champion, APHA European Reserve Champion in Trail in Hand, APHA European Reserve Champion Green Pleasure, APHA European Reserve Champion 2YO Longe Line, Bronze medal in Junior Hunter under Saddle and Senior Western Pleasure at the ECQH, Futurity Reserve Champion in NSBA Hunter under Saddle, Reserve and placed third in Maturity Trail at the Q15, was the winner of the Green Ranch Riding at the Q14 and Green Trail at the Q15 and winner of many International High Points.
His special memories go back to his AQHA Youth Mare, Miss Spool O'Chrome, who has taught him almost all the western classes from Barrel Racing to Western Pleasure, from Hunter Hack to Trail, Team Penning and Cutting beside the Western Horsemanship and Showmanship. Cedric's favorite events are Trail and Showmanship for the technical work, as well as Hunter under Saddle and Western Riding for the flying feeling.
As a coach, he has trained Youth, Amateur and Select Amateur Europeans Champions in Halter, Longe Line, Showmanship, Trail, Trail in Hand, Horsemanship, Hunter under Saddle, Hunt Seat Equitation and Reserve Champions in Western Pleasure, several YWC Gold Champions in Hunter under Saddle and Trail. He was awarded BQHA Professional of the Year and also the Fairness trophy at the ROA.
As a judge, he has worked in different European countries (Italy, France, Germany, The Netherlands, Switzerland, Finland, Danemark and Belgium). He has judged the DQHA North Futurity, DQHA Mitte Futurity, Bavarian Championship, the NSBA European Championship, The Italian Championship, the 2018 Youth World Cup in Texas, the virtual YWC 2020 Showmanship, the Virtual Sucot 2020 for Israël , the Q20, the European QH Championship 2021 and the Czech Republic Championship 2021.