We have all known for a long time that our sport is the sport, that it is totally en vogue. Recently, however, it has gained some new fans: Austrian influencer Tanja Trutschnig and German podcaster Ariana Baborie both wanted to try western riding and who did they visit in order to do so? None other than Berlin Brandenburg Quarter Horses, not only known for their successful show horses but also their stallion Disavowed. Tanja Trutschnig is one of the creators at Blogger Bazaar, a blog that has 150 k followers on Instagram and is one of the most well-known German fashion blogs. Ariana Baborie runs the successful German podcast "Herrengedeck", together with her friend Laura. They have recently won a big German Comedy Award and Ariana is also nominated for the People's Choice Award. We have talked to Leonie Fischer of BBQH about the fact that two well-known German influencers visited BBQH in such a short time.
BBQH has become a sort of go-to-place for influencers this year – how come?
This is one of the few advantages to be located close to Berlin.
I have been listening to the German podcast "Herrengedeck" for many years already, so I also noticed when Laura and Ariana visited the Americana. I knew that Ariana is into horses, so I decided to send her a message on Instagram and she responded right away. Tanja is a friend of my brother. She used to ride western in her home country Austria when she was a child and she wanted to start riding again, so this was a perfect fit.
What did you expect when each of them came to visit? Were you nervous?
I was so excited! I was a little afraid as well that we might not vibe, but this was without any reason. Ariana and Tanja are both so nice and funny, we had a lot of fun. Tanja is still visiting us every now and then and Ariana also announced herself to come to the barn again.
Austrian blogger Tanja Trutschnig of Blogger Bazaar, pictures: Leonie Fischer
Both girls rode Im Yours To Keep aka Owen – was this a coincidence or did you choose him for a reason?
I didn't know their level of riding. I chose Owen, because he is the most easy-going one we have in the barn. He doesn't care when the rider is not familiar with the cues and style of riding. When Tanja came to the barn for the second time she rode Hot Blazing Junior aka Glöbi, who is way more sensitive than Owen. They got along with each other even better.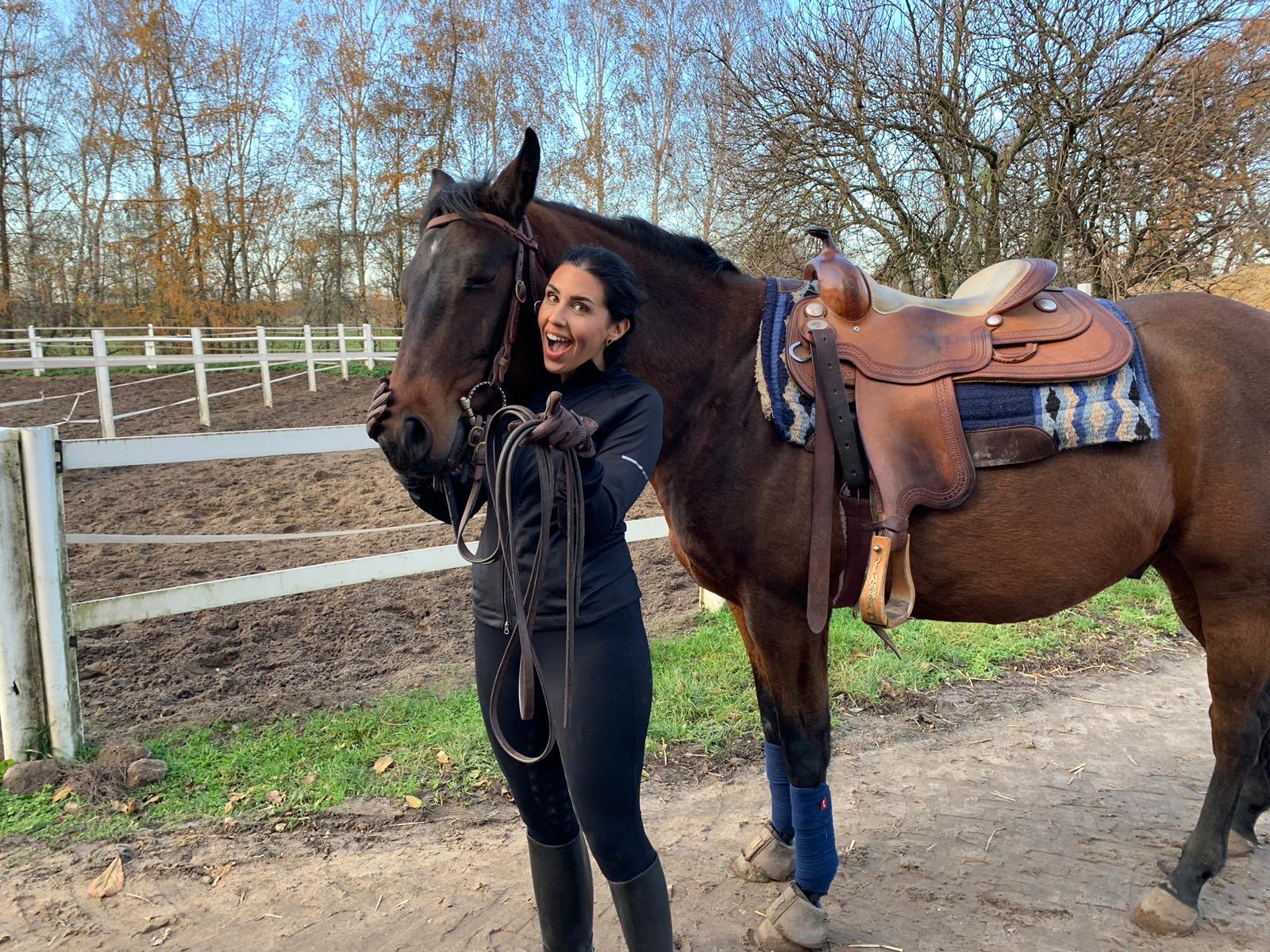 German podcaster Ariana Barborie also visited BBQH, pictures: Leonie Fischer
What was your feeling: Did they think of our sport as a cliché – cowboy hat, spurs and rope?
Not really. They considered western riding a serious sport, but mostly thought of Reining and Cutting. I think they didn't know the versatility of the events and how specialized we breed and train our horses.
Of course, I was really excited to meet both of them, but I was also very happy that people with an outreaching range on social media shared our sport with people outside of the "horse bubble". Because we are so much more than cowboy hat and lasso.
Westernreiten ist im Trend, absolut en vogue – das wussten wir schon immer. Kürzlich hat unser Sport jedoch zwei ganz neue Fans gewonnen: die Bloggerin Tanja Trutschnig von Blogger Bazaar und die Podcasterin Ariana Baborie von Herrengedeck. Beide interessierten sich für das Westernreiten – und landeten am Ende bei Berlin Brandenburg Quarter Horses, die in unserer Szene nicht nur für ihre Turnierfolge, sondern auch durch den Deckhengst Disavowed bekannt sind. Tanja Trutschnig ist eine der beiden Mode-Bloggerinnen von Blogger Bazaar, ein Mode-Portal, das allein auf Instagram 150.000 Follower hat. Ariana Baborie veröffentlicht mit Laura Larsson einmal wöchentlich den beliebten Podcast "Herrengedeck". Die beiden haben vor Kurzem den Comedypreis gewonnen und Ariana ist außerdem für den People's Choice Award nominiert. Wir haben mit Leonie Fischer von BBQH darüber gesprochen, wie BBQH plötzlich zum Anlaufpunkt für Berliner Influencer wurde – und wieso das auch eine positive Auswirkung auf den Sport haben kann.
BBQH ist in letzter Zeit quasi schon ein kleiner Insider-Tipp für Berliner Blogger und Podcaster geworden. Wie kam's?
Das ist wohl tatsächlich ein Vorteil, wenn der Stall so nah an Berlin liegt.
Ich höre den Podcast "Herrengedeck" quasi seit der ersten Stunde und habe dadurch natürlich auch den Besuch von Laura und Ariana auf der Americana verfolgt. Nachdem ich aus dem Podcast auch wusste, dass Ariana sowieso ein Pferdegirl ist, habe ich ihr kurzerhand auf Instagram geschrieben und sofort eine Antwort bekommen.
Tanja ist lustigerweise eine Freundin von meinem Bruder. Sie ist in ihrer Kindheit in Österreich schon Western geritten und wollte unbedingt wieder anfangen, da hat das gut gepasst.
Wie war es für dich, Leute zu treffen, die man eigentlich nur aus dem Internet kennt?
Ich war super gespannt! Ich hatte etwas Angst, dass vielleicht der Vibe nicht stimmen könnte und ich dann enttäuscht bin, aber das war zum Glück total unbegründet! Ariana und Tanja sind beide so liebe und lustige Menschen und wir hatten super viel Spaß. Tanja kommt weiterhin ab und zu reiten und Ariana hat sich auch wieder angekündigt, was bisher nur mit der Terminfindung nicht gepasst hat.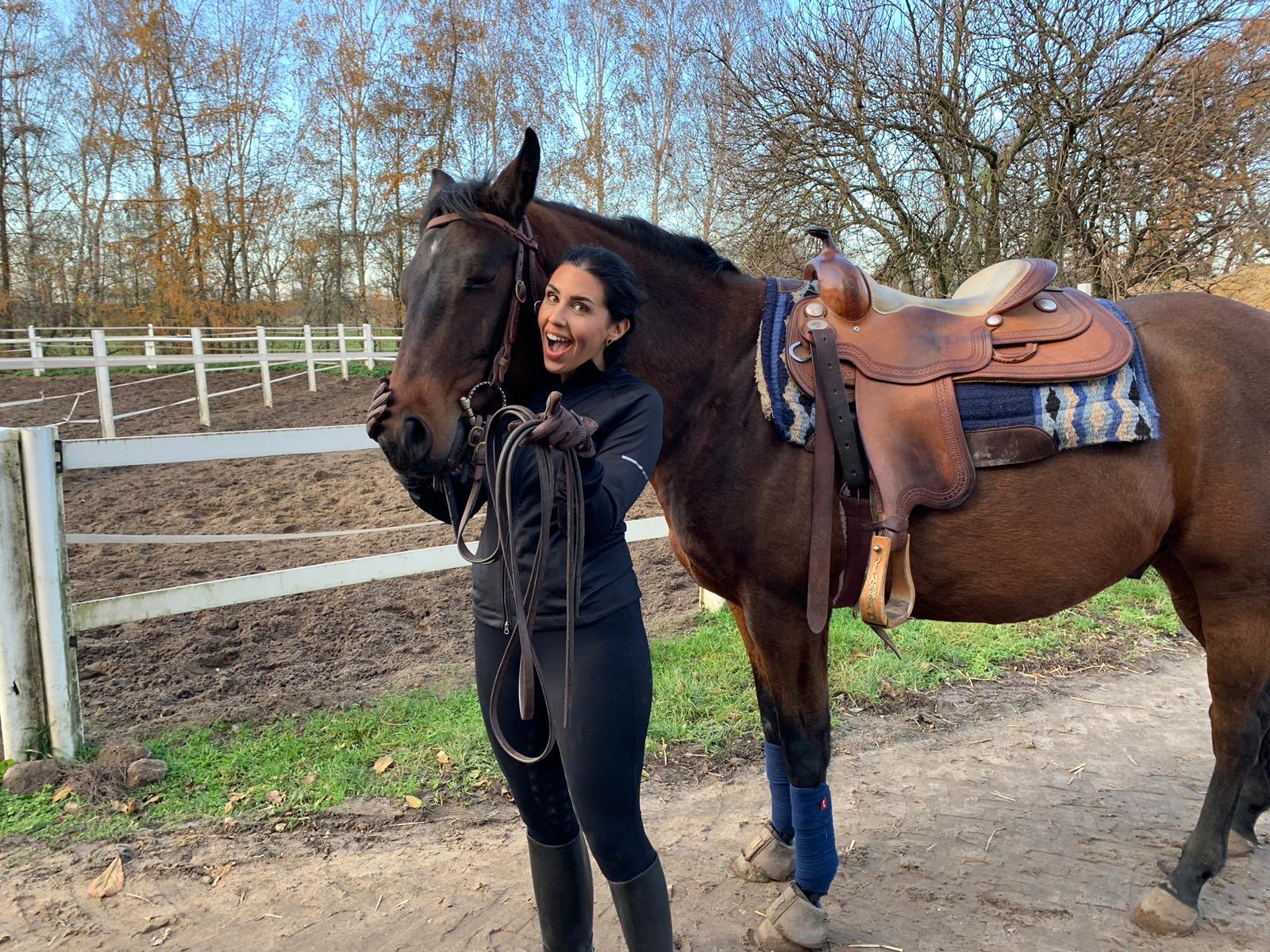 Tanja von Blogger Bazaar und Ariana von Herrengedeck sind beide Im Yours To Keep, genannt Owen, geritten. War das ein Zufall oder hast du ihn gezielt ausgesucht?

Ich wusste zwar, dass beide reiten können, kannte jedoch den genauen Leistungsstand nicht. Ich habe mich gezielt für Owen entschieden, weil er die coolste Socke im Stall ist und alle Fehler verzeiht! Es juckt ihn nicht, wenn der Reiter nicht genau mit den Hilfen vertraut ist und zum Beispiel mal etwas zu viel Bein oder Zügel benutzt. Er ist das perfekte Pferd, um erst einmal die Hilfen und Knöpfe zu verstehen.
Als Tanja das zweite Mal reiten kam, habe ich ihr den etwas sensibleren Hot Blazing Junior, genannt Glöbi, gegeben, weil ich das Gefühl hatte, dass die beiden noch besser zusammen passen. Auch das hat super geklappt.
Wie war das bei den beiden: Hatten sie eher so das Klischee vom Westernreiten — Cowboy-Hut und Lasso — im
Kopf?

Nicht unbedingt. Sie haben die Westernreiterei schon als Leistungssport angesehen. Allerdings hatten sie eher Reining und Cutting im Kopf. Ich glaube beiden war nicht unbedingt klar, wie vielseitig die Disziplinen sind und wie spezialisiert die Pferde gezüchtet und trainiert werden.
Natürlich habe ich mich total gefreut, die beiden kennen zu lernen, aber in erster Linie fand ich es toll und wichtig, dass unser Sport von Personen mit mehr Reichweite auf Social Media gezeigt wird und auch Leute außerhalb unserer "Pferde-Bubble" erreicht werden. Damit irgendwann auch in der Gesellschaft ankommt, dass wir so viel mehr sind als Cowboy-Hut und Lasso .